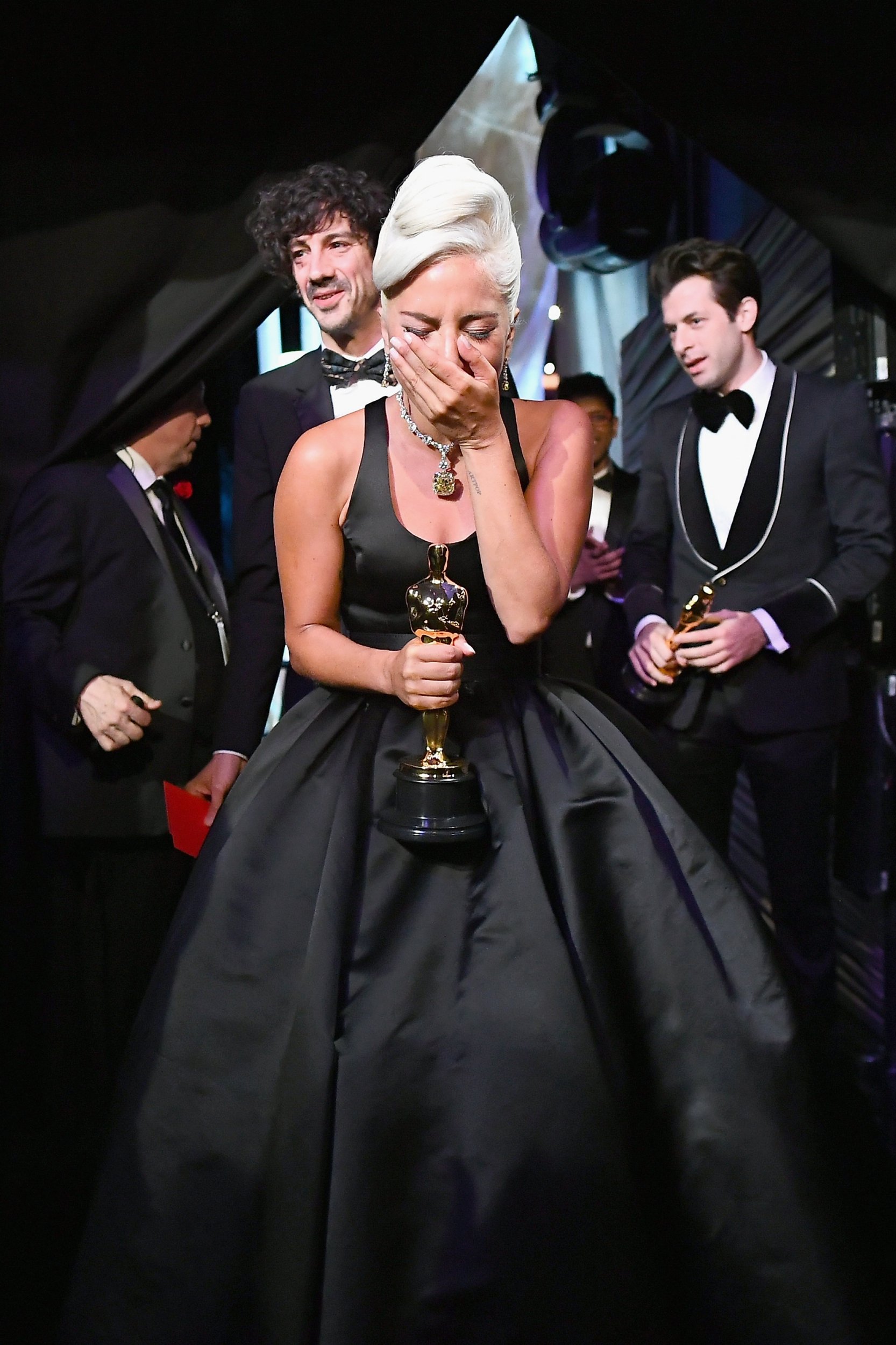 Lady Gaga's Incredible Brand Transformation
---
Lady Gaga's Incredible Brand...
The year is 2010. Glee is the most watched show on television, only 500 million people use Facebook, and Lady Gaga is the most-nominated artist in MTV VMA history with 13 nominations for her second album, The Fame Monster. She won 9 awards that night. However, it wasn't her record-setting number of nominations and wins that would become the pop culture moment of the year. Instead, it was her dress. Each and every time she got on stage to accept an award, she was wearing a dress made entirely out of raw flank steaks. Which begs the question: how did Lady Gaga go from wearing meat dresses at the VMAs to protest "Don't Ask, Don't Tell," to becoming one of the most respected artists in the music industry and in Hollywood?
Her transformation is truly nothing short of incredible. And, considering that she's right off the heels of another incredible award-show season, I think it's time to take a closer look at how she got here.
Let's start at the beginning.
The Meat Dress Days (2008 – 2010)
In 2008, Lady Gaga released her first studio album, The Fame. It had her first hits, like "Just Dance," "Poker Face," and "Paparazzi." She spent most of 2009 opening for the now-defunct girl group, The Pussycat Dolls. Then, at the end of 2009, The Fame was reissued along with 8 new songs as The Fame Monster. It solidified her position as a pop artist and moved on from her Dance/Electronic days with songs like "Bad Romance," and "Telephone." Unfortunately, this was followed by the meat dress incident, which distracted the general public from her actual talent.
There's no doubt that her reason for wearing the dress was noble but her protest just didn't connect with the cause. Instead of a protest for LGBTQ rights, a much more obvious conclusion is that the dress was a statement about how the entertainment industry treats women like meat. In other words, it got people talking for the wrong reasons and therefore was a bad move for her brand.
Gaga Almost Finds Her Footing (2011 – 2013)
It's clear that she learned from her mistake, though. A year after releasing her third album Born This Way in early 2011, she founded the Born This Way Foundation, a non-profit organization focused on youth-empowerment initiatives, especially within the LGBTQ community. The foundation was launched at Harvard University, with Oprah Winfrey and the Health & Human Secretary, Kathleen Sebelius, in attendance. If you ever have to choose between a Harvard-associated foundation that raises actual money for a cause or a meat dress to help shape you or your company's personal brand, choose Harvard.
It was also around this time that Lady Gaga started showing her face during concerts and award shows, rather than hiding it behind elaborate costumes. That's another reason the meat dress was so shocking; it was the first time many people learned what she actually looks like. Sure, her hair was still crazy but she wasn't the only popular artist who was doing that at the time, which made her more digestible. She was learning that she didn't have to be quite so different in order to make an impact.
In 2013, Gaga released her third album, Artpop, her least popular album to date. However, the album itself still debuted at the top of the charts – it just didn't stay there for very long. Artpop's most popular single, Applause, only reached fourth place on the Billboard Hot 100. Any other artist would be thrilled by a number four spot, but Lady Gaga is no typical artist. For her, the fourth place is low.
Gaga Makes A Comeback (2014 – 2015)
After a stumble like this, most artists get out of the mainstream limelight for a bit and stage their comeback. And that's exactly what Lady Gaga did. Perhaps she realized that "weird" isn't really a brand, it's just weird. It's also difficult to keep up with "weird" because it is always changing. When a popular artist like Gaga brings that type of weird into the mainstream, it's no longer abnormal. Most artists have a consistent persona, but Lady Gaga's had to change with every album just to keep up with her own brand. Artpop proved to her – and anyone else paying attention – how unsustainable that model that is.
 In 2014, she released Cheek to Cheek with Tony Bennett. The album was critically acclaimed and followed with a 30 city tour and a Grammy for Best Traditional Pop Vocal Album. Cheek to Cheek's release also marked the start of Gaga's full transition from just plain weird to the quasi-elegant performer that we know and love today. No more outlandish hair colors, no more meat dresses or walking the Grammy's red carpet in an egg. Her new image focused on her voice, not a distracting persona.
Besides her Grammy, 2015 was an amazing year for Lady Gaga's new and improved career. She performed at the 87th Academy Awards in tribute to Julie Andrews and she earned a starring role in the fifth season of American Horror Story. After her engagement to actor Taylor Kinney, even Taylor Swift tweeted, "Is it just me, or is Lady Gaga, like, fully LIVING right now?!? #goals."
A Gaga of All Trades (2016 – 2019)
In 2016, she earned a Golden Globe for her performance on American Horror Story: Hotel. In her acceptance speech, she called winning the award one of the best moments of her life, and revealed, "I wanted to be an actress before I wanted to be a singer – but music worked out first."
She also released her sixth studio album, Joanne, in October 2016. It featured stripped-down, vocal-heavy songs that, much like her new public image, were more focused on her talent as an artist. Like Artpop, it did not surge to the top of the charts, but it was incredibly well-received by critics. Keeping with her stripped-down image and album, her initial tour only had three dates. While the small tour did fit her new image, her schedule was a little tight; she was preparing to headline Superbowl LI. 
Her whirlwind 2016 is chronicled in the documentary Gaga: Five Foot Two, which premiered on Netflix in September 2017. The film earned her even more acclaim from critics. It made her look compassionate, hardworking and, perhaps most importantly, relatable.
In 2018, the film A Star is Born premiered and earned Lady Gaga another Golden Globe for Best Original Song, and Academy Award nominations for Best Original Song and Best Actress.
That's right: in less than a decade, Lady Gaga transformed herself from show biz's greatest spectacle to an Academy Award winner. As of Sunday night, she's halfway to an EGOT. 
I have no doubt that in a few years Lady Gaga's transformation will be a textbook case for how to do celebrity PR the right way. Most celebrities go through rough patches, but you'd be hard pressed to find anyone who has risen from the ashes quite like Lady Gaga.
About Weslie Oeftering: Weslie is a student at The University of Texas at Austin and Swyft's resident PR and marketing intern. She supports clients with social media, blogging, and tech PR activities. Swyft is a PR and marketing agency with offices in Austin, Houston, and Denver that provide services for tech companies all around the world who are seeking rapid, sustained growth. Some of their services include content marketing, social media strategy, as well as ad buys, email marketing, and media relations.